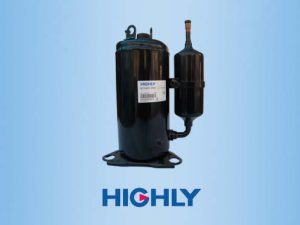 We are an authorized dealer of HIGHLY(Hitachi) rotary compressor for air conditioning made in China, We supply all kinds of HIGHLY(Hitachi) rotary compressor for air conditioner, range from 0.5 – 5HP.

HIGHLY(Hitachi) Rotary Compressor
HIGHLY insists on the development strategy of " prospering the enterprise with science and technology " consistently, pays attention to quality control .Over the past 10 years,the enterprise have four developing stages of " introduce and dependence, digeste and assimilate, developed jointly , researched and developed independently , have realized industry's shifting . Nowadays, HIGHLY not only possess the internationally advanced technical equipment but also have national-level enterprise technique center, pursue and develop the present front technology of the refrigeration industry of the electrical home appliances constantly.The company has been qualified with ISO9001 , ISO14001 and OHSMS18001. HIGHLY took the lead in winning " National Quality Control Award " in the same trade in 2002 and integrating with the advanced international standards progressively.
Stride into the new century , HIGHLY has made the planning of sustainable development, takes improving people's living environment , protecting the human living environment as sacred duty and mission, pull off the strategic development goal on " largest scale, advanced technology , variety is most, newest management ", strive for the global supplier of air condition compressor.
Features For HIGHLY(Hitachi) Rotary Compressor
1. High Efficiency
2. Large capacity range
3. Low-vibration, smooth running
4. Low noise level, Low-priced
5. Compact design
6. Long lifecycle
7. No dead space
You can Download HIGHLY(Hitachi) Rotary Compressor Catalog to get the all models list.
The Most Commonly Used Of HIGHLY(Hitachi) Rotary Compressor Models
If you don't know which model is suitable for you, you could send message to us. We have several professional engineers to make a customized solution for you. ↓↓

Packing & Delivery time Of HIGHLY(Hitachi) Rotary Compressor
1. Packing: Pallet, wooden case or with outer carton, or as per customers' specific requirements.
2. Delivery time: Shipped in 15~30 working days after payment.