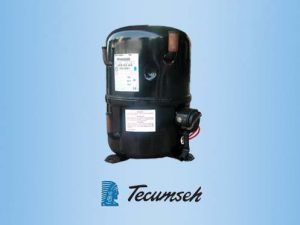 We are an authorized dealer of TECUMSEH compressor for air conditioning made in China, We supply all kinds of TECUMSEH compressor for air conditioner, range from 1/5 – 6HP.

Discover the advantages of Tecumseh's broad range of energy efficient and reliable reciprocating compressors for household refrigerators and freezers, air-conditioning and commercial refrigeration applications including foodservice to walk-in coolers.
What is a Reciprocating Compressor?
A hermetic reciprocating compressor uses pistons driven by a crankshaft to deliver refrigerant at high pressure from the low side to the high side of a refrigeration system.
Why Tecumseh Reciprocating?
In 1938, Tecumseh revolutionized the refrigeration industry with the first hermetically sealed reciprocating compressor. We have provided 75+ years of industry leadership in reciprocating compressors for air conditioning and refrigeration applications. Today, we continue to lead the way by designing energy efficiency, quiet operation and reliability into every new compressor we produce.
Features for TECUMSEH Compressor
1. Easy maintenance with oil drain tube
2. Environmentally-friendly lead-free bearings
3. Easy to install, Energy saving, efficiency and silence
4. Prepared for manifolding with oil sight glass and oil equalizer
5. Place of Origin: China (Mainland)
6. Refrigerant: R22/R404A/R407C/R134a
7. Certification: TUV, CCC, UL, VDE, CE, CRAA, TIS, KC, CB, INMETRO
You can Download TECUMSEH Compressor Catalog to get the all models list.
If you don't know which model is suitable for you, you could send message to us. We have several professional engineers to make a customized solution for you. ↓↓

Packing & Delivery time Of TECUMSEH Compressor
1. Packing: Pallet, wooden case or with outer carton, or as per customers' specific requirements.
2. Delivery time: Shipped in 15~30 working days after payment.